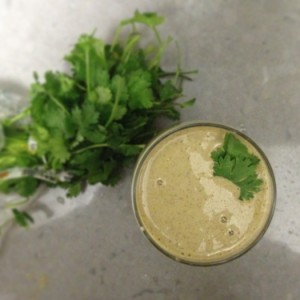 This smoothie is super thick and creamy and it tastes like a dessert. By using almond butter, coconut oil and flaxseed, it contains tons of healthy fat so you'll feel satiated for hours. I also threw in some cilantro to help detoxify my liver (and, because I loooove it!).
Ingredients:
1 cup unsweetened almond milk
1 frozen banana
2 tbsp almond butter
1 handful cilantro
1 tbsp coconut oil
1 tbsp cacao powder
1 tbsp ground flaxseed
Instructions:
Place all ingredients into a blender and blend until smooth.
Enjoy!!