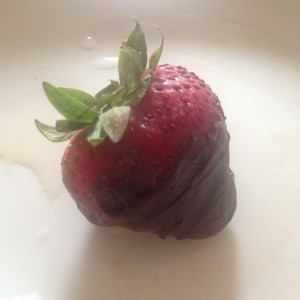 This is one of my fave desserts!! If you're looking for a yummy, easy dessert for your dinner party, dark chocolate covered strawberries are a great option. They're always a crowd pleaser as they're healthy and delicious.
Ingredients:
1 pound strawberries (about 20), washed and dried completely
4 ounces dark chocolate
Instructions:
1) Place the chocolate in a heat-safe bowl. Fill a saucepan with two inches of water and bring to a simmer.
2) Place the bowl of chocolate on top of the saucepan. The bottom of the bowl should not touch the water. Use a double boiler instead if you have one.
3) Heat the chocolate on medium heat until melted, stirring occasionally.
4) Dip the strawberries into the chocolate, covering them 1/2 to 3/4 of the way to the stem. Place them onto parchment paper.
5) Please strawberries into the refrigerator for 30 minutes to set the chocolate.