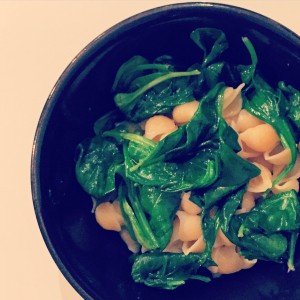 Many people associate cooking with creating gourmet meals. And, slaving away in the kitchen is probably the last thing you feel like doing after a long, stressful day at the office. The good news is that cooking can be very simple. You don't have to spend hours making dinner to enjoy your food. Whiping up nutritious, tasty meals in under 30 minutes is totally doable.
The below recipe couldn't be easier. It's great for those nights when you want something home cooked, yet simple and delicious.
Ingredients:
1 cup quinoa pasta
2 handfuls spinach (pre-washed)
1 tablespoon butter
extra virgin olive oil
Himalayan pink salt and pepper, to taste
Instructions:
In a pot, add salt to the water and bring to a boil. Place pasta in the pot and stir occasionally. Cook until al dente, 8 to 10 minutes. Drain pasta and add to a bowl. Meanwhile, put butter in a pan and place on low heat. Add spinach to the pan and toss occasionally. Cook until wilted, 3 to 5 minutes. Combine pasta and spinach. Drizzle with olive oil and add salt and pepper to taste.
So easy! Enjoy!