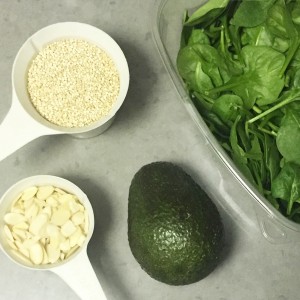 I'm sort of obsessed with quinoa. It's a complete protein with all nine essential amino acids, so it's a great meat replacement. This recipe is one of my favorites as it's quick, easy and tastes delicious. But, feel free to throw in whatever veggies you have in the fridge!
Ingredients:
2 cups quinoa
3 cups water
3 handfuls spinach
1/4 cup sliced almonds
1 avocado, seeded, peeled and diced
2 tablespoons grass-fed butter (I recommend Kerrygold)
1/4 cup extra virgin olive oil
cayenne for a kick
Himalayan pink salt and pepper, to taste
Instructions:
Place quinoa in a large pot, add water and bring to a boil. Cover pot and simmer for 15 minutes. Fluff quinoa and let cool. Add butter to two pans and place both on low-medium heat. Add almonds to one pan and heat until slightly brown. Add spinach to the other pan and cook until wilted. Place quinoa in a serving bowl and add almonds, spinach and avocado. Mix together and drizzle with olive oil. Add salt, pepper and cayenne to taste.
Enjoy!