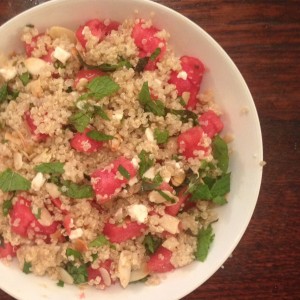 There's nothing more refreshing than watermelon on a hot summer day. This quinoa salad with watermelon is bursting with flavor and it makes for a great summertime dish. You will love it!!
(Serves 2)
Ingredients:
1 cup quinoa, washed and drained
1 1/2 cup water
3/4 cup watermelon, cubed
1/4 cup sliced almonds
handful feta
handful fresh mint, chopped
1 tablespoon butter (I recommend Kerrygold)
1/4 cup olive oil
salt and pepper, to taste
Instructions:
Place quinoa in a pot, add water and bring to a boil. Cover pot and simmer for 12 minutes. Fluff quinoa and let cool. Add butter to a pan and place on medium heat. Add almonds and heat until slightly brown. Place quinoa in a serving bowl and add watermelon, almonds, feta and mint. Mix together and top with olive oil.