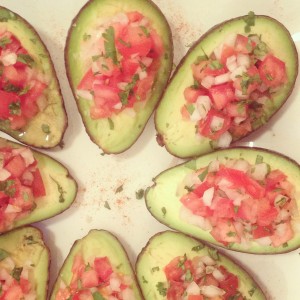 Looking for the perfect lunch or light dinner? These avocado boats are just the trick. This recipe is simple and super healthy. Also, avocado and tomatoes make a great team as the fat from the avocado helps your body absorb the lycopene, an antioxidant, from the tomatoes. Good stuff!
Ingredients:
1 avocado, halved and seeded
1/4 cup tomatoes, diced
1/4 cup onions, diced
1 tablespoon cilantro, chopped
juice of one lime
Himalayan pink salt, to taste
cayenne, to taste
Instructions:
Combine tomatoes, onions, lime juice and salt in a bowl and mix well. Scoop out extra flesh of avocado, if necessary. Spoon the tomato and onion salad and place into center of avocado. Garnish with cilantro and add cayenne for a kick.
Enjoy!