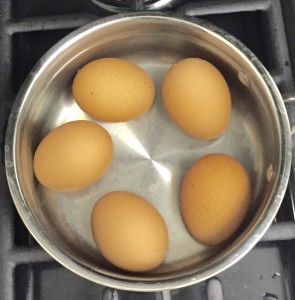 Nothing makes me feel more energized than having eggs in the morning. They contain lots of protein, which is essential for getting your day started on the right foot. I love to hard boil them on Sunday nights and store them for the week. This way, breakfast is a no-brainer.
Ingredients:

10 organic, pasture raised eggs

Instructions:
Place eggs in a pot of water and slowly bring to a boil. Once boiling, remove from heat, let them cool for 12 minutes. Run under cold water to prevent overcooking. Pop them in a sealed container (unpeeled) and place in the refrigerator.
Enjoy!