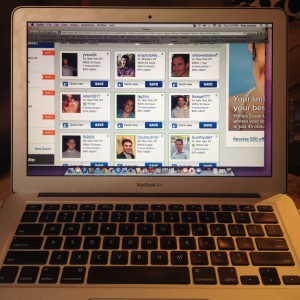 Online dating is all the rage these days. Singles create the virtual version of themselves in order to search for a date from their couch. While this is way more relaxing than bar hopping, the tricky part is getting your healthy, authentic self to resonate from the screen.
If you're obsessed with yoga, green juice and meditation, you're probably seeking a partner with a similar lifestyle. But, finding a healthy match in cyberspace can be tougher than running that half marathon you just completed.
So, below are some tips for attracting healthy suitors online.
1) Say cheese
Posting active photos will demonstrate your healthy lifestyle. Fellow daters will see you in action and envision you hitting the gym or playing tennis together. According to Julie Spira, a cyber-dating expert and author of The Perils of Cyber-Dating: Confessions of a Hopeful Romantic Looking for Love Online, "Online daters are visual, so posting active photos is essential."
2) Be positive
Healthy people strive for positivity and seek it in others. So, focus on the traits you DO want in a partner. Wasting space listing things you're not attracted to can come across as negative. Also, describe activities and food you enjoy as opposed to those you tend to avoid.
3) Talk green juice, etc.
Green juice is fuel for healthy guys and gals. If you're a regular drinker, definitely mention that you love your liquid kale. And, feel free to touch on the hot yoga class that kicked your butt or your favorite health food spot.
4) Be you
There's nothing more attractive to the health conscious than authenticity. You shouldn't say you exercise five times a week if it's really five times a month. Julie Spira says, "You don't want someone thinking you're up for a 10 mile hike if you can barely make it through one mile. You shouldn't misrepresent yourself."
5) Don't overdo it
Make sure your profile is a good balance between your commitment to coconut water as well as your favorite summer cocktail. "No one likes an extremist." says Julie Spira. Portraying balance will show that you're not afraid to split an ice cream once in a while.
If you're on a dating site to attract your healthy other half, keep these tips in mind. Your profile will accurately reflect your true, health nut self. And, you'll be sharing some organic wine in no time.