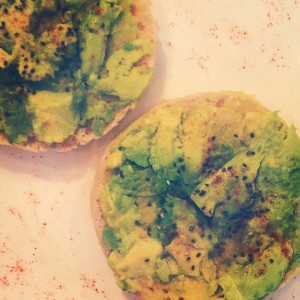 Avocados are one of my favorite foods. They're filled with tons of healthy fat and they're so delicious. Spread some on an English muffin and you have the perfect breakfast. You'll feel satiated for hours!
Ingredients:
1 Ezekiel English muffin, halved
1 avocado, halved
extra virgin olive oil
chia seeds
cayenne pepper
himalayan pink sea salt
Instructions:
Toast English muffin until light golden brown. Scoop out avocado chunks and spread evenly onto the muffin. Drizzle with olive oil and add chia seeds, cayenne pepper and salt to taste.
Enjoy!